Submit Bird Sightings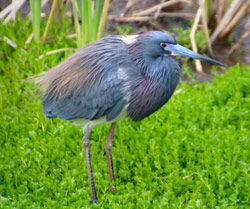 If you would like to submit a bird sighting, or if you have a question or comment, please fill out the form below. For questions, you will get an email from Walt Zuurdeeg, waltzuurdeeg@mediacombb.net, which may go to your trash or junk folder, so check those folders if you do not receive a response in your inbox.
There are web sites for Illinois and Iowa where you can see bird sightings from around the state. They also allow you to join their bulletin board and report your sightings.
For Illinois go to IBET (Illinois Birders Exchanging Thoughts).
For Iowa go to Iowa Ornithologists' Union IA-Bird Listserv.
| | |
| --- | --- |
| First Name: | |
| Last Name: | |
| Address: | |
| City: | |
| State: | |
| Zip Code: | |
| Phone with area code: | |
| Email Address: | |
Upload a photo of the sighting:


Enter your bird sighting or question here: 



(Type the word shown above)
Photo by Dick Sayles
Tricolored Heron
Port Aransas, Texas
The Quad City Audubon Society (QCAS) is dedicated to the enjoyment of birds, a better understanding of the natural world, stewardship of natural areas and habitats, fellowship, improvement of community awareness of environmental issues, and education of youth for the benefit of future generations.
UPCOMING EVENTS
All events are open to the public:
---
Sept 13 - 14  Q.C Pollinator Conference Davenport, IA
This year's conference focuses on Bees, Butterflies & Beyond; Woodlands & Wetlands; and the Human Component. Optional pre-conference workshops will be held on September 13 from 8:30-11:30 a.m. Register online at http://nahantmarsh.org/2017-quad-cities-pollinator-conference-registration/.
September 14, Thursday, Quad City Audubon regular montly meeting at 7:00pm, Butterworth Center, 1105 8th Street, Moline, IL.The meeting will include a presentation by Betsy Bainbridge, U.S. Fish and Wildlife Service, on Cheyenne Bottoms. Cheyenne Bottoms is the largest marsh in the interior of the United States and was designated a Wetland of International Importance in 1988 by the Ramsar Convention on Wetlands. The area is considered the most important shorebird migration point in the western hemisphere. The public is invited; there is no charge.
September 16, Saturday, Wild Cat Den State Park Field Trip. Meet at Credit Island Lodge at 7:00 a.m. Carpool to Wild Cat Den State Park near Muscatine,
Iowa. Half day trip. Fall migration!
.