WELCOME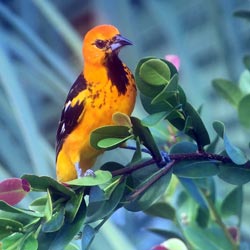 Welcome to the Quad City Audubon Society. A chapter of the National Audubon Society, we are an association of local volunteers whose primary concerns are birds and the habitats that sustain them.
Mission Statement
The Quad City Audubon Society (QCAS) is dedicated to the enjoyment of birds, a better understanding of the natural world, stewardship of natural areas and habitats, fellowship, improvement of community awareness of environmental issues, and education of youth for the benefit of future generations.
February 11, 2016 Thursday Monthly Meeting Butterworth Center Moline Illinois
Mark Aronson, Biology Instructor, Scott Community College, will present a program on the "The Ecological Consequences of Iowa's Water Quality." This program is taken from research of Mr. Aronson describing the biodiversity of Iowa's Streams.
~~ Spot-Breasted Oriole Florida Dec. 1, 2015 Photo by Dick Sayles
UPCOMING EVENTS
All events are open to the public:
---
Jan 8, 9 and 10 2016 Quad City Bald Eagle Days – Celebrate the annual southern migration of the Bald Eagle to the open waters on the Mississippi River. These magnificent birds of prey gather along the wooded bluffs to spend the winter in the Quad Cities. Go eagle-watching and attend the largest environmental fair in the Midwest at the QCCA Expo Center in Rock Island, IL. Please contact Dick Sayles for more information 563 676 9616.
Feb. 7, 14, 21, and 28 2016 - Basic Birding at Comm University. Come to Saint Ambrose University and learn about the birds of our area. Topics include bird identification, habitat requirements, how to look at birds and where to go.
Register online at Communiversity or Contact Quad Cities Communiversity at (309-794-7259)
Feb. 27, 2016 Saturday Field Trip to Wildcat Den and Surrounding area for possible early spring migrants and winter birds. Usually a beautiful, but possibly very cold late winter walk in the woods. This trip will meet at Buffalo Shores at 7:00 AM. Possible steep trails. Any questions contact Dick Sayles (563 676-9616).