WELCOME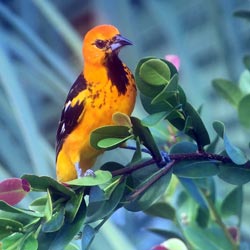 Welcome to the Quad City Audubon Society. A chapter of the National Audubon Society, we are an association of local volunteers whose primary concerns are birds and the habitats that sustain them.
Mission Statement
The Quad City Audubon Society (QCAS) is dedicated to the enjoyment of birds, a better understanding of the natural world, stewardship of natural areas and habitats, fellowship, improvement of community awareness of environmental issues, and education of youth for the benefit of future generations.
November 10, Thursday - Monthly Meeting (7 pm): Cornelia F. Mutel, senior science writer at IIHR-Hydroscience & Engineering at the University of Iowa, College of Engineering, will discuss her newest book, "A Sugar Creek Chronicle Observing Climate Change from a Midwestern Woodland".
~~ Spot-Breasted Oriole Florida Dec. 1, 2015 Photo by Dick Sayles
UPCOMING EVENTS
All events are open to the public:
---
December 8, 2016 - Monthly Meeting and Pie Night: Dr. Brian Peer will present a program on, "The Prothonotary Project".
Area Christmas Bird Counts: Audubon Society has long been synonymous with Christmas Bird Counts. The first Christmas Bird Count was held in 1900 and was an alternative to the Christmas Hunt in which parties competed to see who could kill the most game. From a very modest beginning the Christmas Counts are held worldwide and are a  huge citizen science effort to census birds.
Several local counts are held annually on specific dates:  December 14  Clinton/Savanna, December 18 Quad Cities,  December 20 Princeton/Camanche, December 21 Van Petten (Sterling/Rock Falls Area), 12/22 Western Mercer County, December 23 Muscatine, December 24 Andalusia
Kelly Mckay compiles these counts.  For further information or to volunteer to help with the counts one may contact Kelly McKay at 309-235-4661.
January 6-8, 2017 - Bald Eagle Days at the QC Expo Center, Rock Island, IL. It will be the 50th anniversary of bald eagle watching in QC and 30th anniversary of Quad Cities Bald Eagle Days.
January 12, 2017 - Monthly Meeting: Mitch Davis will present a program "Birding in Ecuador", discussing a recent trip he and his wife, Marilyn made last winter.