WELCOME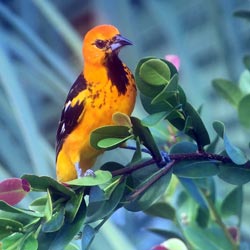 Welcome to the Quad City Audubon Society. A chapter of the National Audubon Society, we are an association of local volunteers whose primary concerns are birds and the habitats that sustain them.
Mission Statement
The Quad City Audubon Society (QCAS) is dedicated to the enjoyment of birds, a better understanding of the natural world, stewardship of natural areas and habitats, fellowship, improvement of community awareness of environmental issues, and education of youth for the benefit of future generations.
~~ Spot-Breasted Oriole Florida Dec. 1, 2015 Photo by Dick Sayles
UPCOMING EVENTS
All events are open to the public:
---
January 6-8, 2017— Bald Eagle Days at the QC Expo Center, Rock Island, IL. It will be the 50th anniversary of bald eagle watching in the Quad Cities and the 30th anniversary of Quad Cities Bald Eagle Days. Showtimes are:
Friday, January 6th: 4 p.m. - 8 p.m. (kids 6-15 free); Saturday, January 7th: 10 a.m. - 8 p.m.; Sunday, January 8th: 10 a.m. - 5 p.m.
Audubon will again be hosting Bald Eagle viewing tours, 5 times each day on Saturday and Sunday, beginning at 10:30 a.m., with the last tour of the day leaving at 3:30 p.m. The tours are free and interested participants should meet by the "Eagle Tours" sign near the ticket taker just inside the QCCA.
January 12, 2017 —Monthly Meeting: Mitch Davis will pr esent a pr ogr am on bir ding in Ecuador titled, Ignorant Flatlanders Birding in Northwest Ecuador, discussing a recent trip he and his wife Marilyn made last winter. This program will feature Mitch's photographs from his first experience birding "by altitude," from the Ecuadoran lowland, through the cool temperate cloud forest to the harsh heights of the Andes' paramo zone.
February 9, 2017—Monthly Meeting: For mer Quad Cities Audubon President Dick Sayles will present a program on Birding in Panamá and the search for the Mythical Harpy Eagle. This October 2016 trip also included a week of birding with the legendary Sandy Comito of Big Year fame, truly a trip of a lifetime.