Contact Us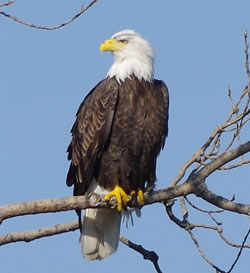 Experience tells us that some of the best ideas have come from you - our users. Tell us what you think about our organization, about our web site, what new features you would like to see, or anything else that comes to mind. All of your comments and suggestions are welcome.
Officers
Board Members
Committee Chairs
~~ Bald Eagle, photo by Jody Millar
The Quad City Audubon Society (QCAS) is dedicated to the enjoyment of birds, a better understanding of the natural world, stewardship of natural areas and habitats, fellowship, improvement of community awareness of environmental issues, and education of youth for the benefit of future generations.
UPCOMING EVENTS
All events are open to the public:
---
Sept 13 - 14  Q.C Pollinator Conference Davenport, IA
This year's conference focuses on Bees, Butterflies & Beyond; Woodlands & Wetlands; and the Human Component. Optional pre-conference workshops will be held on September 13 from 8:30-11:30 a.m. Register online at http://nahantmarsh.org/2017-quad-cities-pollinator-conference-registration/.
September 14, Thursday, Quad City Audubon regular montly meeting at 7:00pm, Butterworth Center, 1105 8th Street, Moline, IL.The meeting will include a presentation by Betsy Bainbridge, U.S. Fish and Wildlife Service, on Cheyenne Bottoms. Cheyenne Bottoms is the largest marsh in the interior of the United States and was designated a Wetland of International Importance in 1988 by the Ramsar Convention on Wetlands. The area is considered the most important shorebird migration point in the western hemisphere. The public is invited; there is no charge.
September 16, Saturday, Wild Cat Den State Park Field Trip. Meet at Credit Island Lodge at 7:00 a.m. Carpool to Wild Cat Den State Park near Muscatine,
Iowa. Half day trip. Fall migration!
.