Resources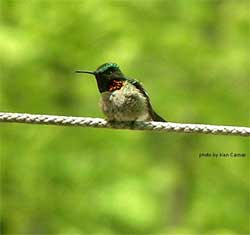 Members' Picks: Quad City Birding Spots
Backyard Environmental Education
Illinois Audubon Society 
(www.illinoisaudubon.org)
Iowa Audubon 
(www.iowaaudubon.org)
National Audubon Society 
(www.audubon.org)
Iowa Ornithologists' Union ** 
(www.iowabirds.org)
Cornell Lab of Ornithology 
(www.birds.cornell.edu)
All About Birds 
(www.birds.cornell.edu/programs/AllAboutBirds) 
U.S. Fish & Wildlife Service 
(www.fws.gov)
Quad Cities Earth Week Coalition 
(www.qcearthweek.org)
IBET (Illinois Birders Exchanging Thoughts) ** 
(www.groups.yahoo.com/group/ILbirds)
Iowa Breeding Bird Atlas 
(bba.iowabirds.org)
The Great Backyard Bird Count 
(www.birdsource.org/gbbc/)
American Birding Association 
(www.aba.org/birding/)
3 Billion Birds Gone
(www.3billionbirds.org)
Wirefence - collection of ornithology resources
Feather Atlas - bird identification tool
** These web sites allow you to see bird sightings from around the state.
They also allow you to join their bulletin boards and report your own sightings.
The Quad City Audubon Society (QCAS) is dedicated to the enjoyment of birds, a better understanding of the natural world, stewardship of natural areas and habitats, fellowship, improvement of community awareness of environmental issues, and education of youth for the benefit of future generations.

-->
January 5th was National Bird Day
How can you help protect birds?
Make your windows safer by installing screens and used colored paper, etc. to reduce reflections.
Keep your cats indoors.
Reduce turf grasses and plant native plants including those that attract pollinators to increase food sources and shelter.
Avoid pesticides.
Encourage your cities and neighbors to plant more trees and shrubs, especially in areas that may have less green space.
Join organizations such as the Quad City Audubon Society. Quad City Audubon and Nahant Marsh offer in-person and virtual programs on birds.
Join a Quad City Audubon field trip and visit some of our many local parks and wildlife refuges. Learn more at quadcityaudubon.org.
Did you know that birds eat 4/5 of their weight each day? Feed the birds!
Information taken from UUCQC Environmental Justice Team