Get Involved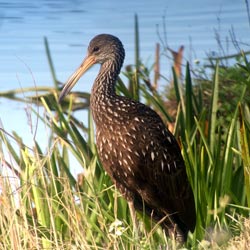 Quad City Audubon Society (QCAS) activities offer opportunities for many different levels of involvement. All of our activities are free and open to the public - it is not necessary to be a member of QCAS to participate.
The easiest way to get involved is to attend one of the monthly meetings or field trips listed on our calendar page. 


Injured Birds 

What Do I Do With An Injured Bird? 

Sometimes birders come across an injured bird and are not sure who to call. Before you do anything, observation from a safe distance may show the animal is neither sick or injured and may need no assistance at all. If you do determine that assistance is needed, you can refer to the following list for the rehabilitator nearest you. These people are all volunteers and may have other jobs, so leave a message and they will return calls as soon as possible. 

For non-raptor birds in eastern Iowa:
Vera Blevins @ 563-355-7831
For raptors in eastern Iowa:
Macbride Raptor Project @ 319-398-5495
While you are waiting, you can restrain the sick/injured bird in a pet taxi or cardboard box with some air holes but do not offer any food or water unless instructed to do so by the rehabilitator. Keep the bird warm or cool depending on the time of the year and wait for a call. 

Racing Pigeons 

Occasionally birders come across someone's pet racing pigeon that got lost on its way home. These birds are normally banded with non-Fish & Wildlife Service bands that have some identifying characteristics. The following website appears to be a good place to start to notify the owner -American Racing Pigeon Union. 


Issues 

Drilling in the Arctic 

Just days before Shell was supposed to begin exploratory drilling in the Arctic, the company admitted that some of its drilling vessels failed to meet the air quality standards required by the Environmental Protection Agency. Now Shell is asking the EPA for an exemption so that it can spew more than ten times the legal limit of air pollution while it drills. This isn't exactly breaking news. The company has known since 2010 that its fleet had serious problems - even though it was assuring EPA officials that everything would be fine. By waiting until the last minute, Shell is betting the EPA will bend the rules and let it move forward with drilling. 

The Obama Administration gave the green light to Shell's dangerous plan to drill exploratory wells in the pristine waters off the Alaskan coast. And they have the power to make sure the company meets the requirements of the permit. 

The last few weeks have been bad for Shell. First, the company admitted that its fleet couldn't meet EPA requirements for air pollution. Then it lost control of its 14,000 ton drill rig in Dutch Harbor, where witnesses say it came dangerously close to running aground on the beach. It's probably safe to say that Shell isn't "Arctic ready". No oil company is. We all remember the horrible tragedy caused by BP two years ago in the Gulf of Mexico. Well, the Arctic Ocean makes the Gulf look like a flat, calm lake. With constant high seas, ice and massive waves, there's no way to effectively clean-up an oil spill in the Arctic Ocean. Drilling for oil in one of the last pristine places on earth isn't going to help us solve global warming, anyway. It only makes it worse. 


Mississippi Flyway Action Network 

In March, Walt Zuurdeeg and Linda Boardsen represented Quad-City Audubon at the Mississippi Flyway Action Network Workshop in New Orleans. The National Audubon Society invited participants from all states bordering the Mississippi River to formally kick off Audubon's Mississippi Flyway Initiative. Nearly half of North America's bird species and about 40 per cent of its waterfowl spend at least part of their lives along the Mississippi Flyway. States and the number of representatives included: Alabama (2), Arkansas (2), Iowa (3), Illinois (5), Louisiana (1), Minnesota (2), Mississippi (3), Ohio (4), Tennessee (2), and Wisconsin (1). Chris Canfield, the National Audubon Society's vice president for Gulf of Mexico Conservation and Restoration, opened the workshop with an overview of the ecological and economic importance of the Mississippi River to our country's well-being. Economic sectors include agriculture, aquaculture, energy production, the commercial extraction of natural resources, commercial navigation, outdoor recreation, tourism, water supply, and manufacturing. The Mississippi River is directly responsible for generating more than $300 billion annually, and contributing more than 15 million jobs to the U.S. economy. 

The ecological and economical vitality of the Gulf of Mexico is directly dependent on the ecological health of the Mississippi. Between Minnesota and St. Louis, the river is managed with a series of 29 locks and dams. Below St. Louis, the river is straitjacketed by 1,678 miles of levees. These levees confine the river to a mere 10 percent of its historic floodplain and therby prevent it from delivering the sediment needed to sustain its vast delta. As a result, 19 square miles of deltaic wetlands disappear each year. Nitrate runoff from the farming states contribute significantly to the "Dead Zone" in the Gulf. The BP oil disaster was the latest blow to a region already reeling from many other challenges. 

The Iowa Environmental Council in conjunction with other environmental organizations recently filed a lawsuit against the EPA in an effort to create accountability standards for farm states along the Mississippi River with respect to fertilizer run off. According to the U.S. EPA's Toxics Release Inventory for 2010, the Mississippi River is ranked 2nd for total toxic discharges nationally, with 1,874,430 pounds of toxics dumped in Iowa specifically and 12.7 million pounds dumped from facilities all along its course through 10 states. Roquette America Inc. was the biggest polluter in Iowa, dumping 1.7 million pounds of toxic chemicals into the Mississippi. Roquette America Inc. was the 24th biggest pollluter in the country, followed closely by another Iowa facility, Tyson Fresh Meats Inc. at 25th. 

Sadly, the Beaver Channel, which runs through my hometown of Clinton is ranked 39th in the country for discharges of cancer-causing chemicals, at 6,912 pounds in 2010. Many industrial operations processing food, chemical, and other products in this area have caused pollution problems along the channel for years. 

Now that you have read the bad news about what is going on with our beloved Mississippi, rest assured that there is hope for we can all become advocates and take action. Advocacy training was at the heart of the Mississippi River Flyway Initiatives workshop. Walt and I learned many strategies to raise public awareness by engaging the media, contacting our elected officials, and reaching out to our local Audubon chapter members. 

Legislatively, we need to encourage our congressional representatives to pass the Restore Act which designates the majority of funds received from BP to go for habitat conservation and restoration. The Senate passed the Restore Act late in March. The upcoming Farm Bill is the next piece of legislation which can siginificantly affect the ecological health of the Mississippi. 

Linda Boardsen, Educational Chairman of the Quad-City Audubon Society 


Iowa Government Efficiency Bill 

In the Iowa legislature, several proposed measures give cause for concern. As part of a large government efficiency bill, the Iowa House has been considering legislation that would require the Iowa Department of Natural Resources to sell off some of the land it owns and to restrict the acquisition of land for public use in the future. Iowa currently ranks 49th among the states in public land ownership. With most of the Iowa landscape dominated by row crop agriculture, it seems important to maintain publicly owned land that provides habitat and food for wildlife. With so much importance being placed upon the economics of any policy, it is important to remember that wildlife management, including on public lands, is very important to Iowa economically: hunting infuses some $443 million in economic benefit each year and wildlife viewing adds another $342 million. While the legislature may not act on this proposal this year, it will likely remain for consideration in the future. 


Iowa Lead Shot Dove Hunting 

Also at issue in Iowa has been the banning of lead shot for hunting mourning doves. The Natural Resource Commission passed a rule banning lead shot; that rule could be nullified by legislative action. On the table as well has been the issue of new nuclear power, with many conservation groups opposed to HF561. In 2010, the legislature approved a bill that allowed MidAmerican Energy to begin charging its ratepayers for a three-year feasibility study. The legislature has taken up the matter of a proposed new nuclear power plant again during the current session. 

If you live in Iowa, please consider letting your legislators know your feelings on these issues. 


Bird Counts 

The Christmas Bird Count is a census of area birds conducted during the 23 days surrounding Christmas. On the assigned date, organized field parties census the bird populations within a given count circle, a pre-defined area 15 miles in diameter. Meanwhile, "feeder watchers" will count the birds that visit their feeder during the day. There are a number of individual counts in the Quad Cities area, each held on a different day. Count circles include: Clinton, Cordova, Quad Cities, Andalusia, New Boston, and Muscatine. It is not necessary to be an expert birder to participate on a Christmas Bird Count. If you are not an expert, we will make every attempt to team you with an experienced birder if you would like to join a field party. 

Contact any board member if you are interested in participating in a field party or as a feeder watcher. 

The Illinois Spring Bird Count falls on the Saturday between May 4 and May 11, near the peak of song bird migration. Field parties often identify 100 or more different species during a Spring Count. Participants in the Spring Bird Count may join a field party, or they may choose to count the birds that visit their feeder or a neighborhood park. 

Contact any board member if you are interested in participating in the Illinois Spring Bird Count. 


Conservation Projects 

Conservation Committee Projects focus on wildlife habitat improvement. Here are some examples:
Bluebird trail at Horseshoe Bend on the Port Louisa National Wildlife Refuge in Louisa County. QCAS built and maintained a one-mile long bluebird trail on the prairie restoration in Horseshoe Bend.
Invasive species removal. In early July, we focus on the removal of sweet clover at the Lyndon-Agnew Prairie outside of Lyndon Illinois (see below for more information). Other opportunities for invasive plant removal include euonymous at Blackhawk State Historic Site in April and garlic mustard in May.
Wildlife population surveys including frog and toad studies at Nahant Marsh in Davenport and other locations.
Lyndon-Agnew Prairie is northeast of the Quad Cities along Interstate 88. It is a prairie remnant, preserved only because a railroad track was built before the ground could be plowed. This is a situation common to prairie remnants. The few remaining often find themselves along railroad track right-of-ways, in the oldest cemeteries or on ground too rocky, too sandy or too steep to be farmed. Yet even these sites fall to herbicides and shrubby encroachment. Unfortunately the railroad track right-of-way is nearly all prairie edge. The native prairie has been weakened by a variety of forces, and burning along an Interstate, while not impossible, is difficult. Still, the prairie exists and it exists as a functioning prairie with a good diversity of vegetation. There are believed to be around 70 native plants species in this remnant. Some of these, Turks Cap Lily, Philadelphia Lily, Sullivant's Milkweed are rare to endangered in Illinois. Others such as the Northern Dropseed/Prairie Gentian community evoke thoughts of how prairie once might have looked. The prairie cannot continue to exist without our assistance. Every year Quad City Audubon members have worked to help remove invasive species. It seems as if the efforts are helping. One of our target species, Sweet Clover, has markedly decreased over past years. The work itself is not hard, but the environment can be difficult. It is generally hot and humid, there is often little wind and there is no shade. Our major implement of destruction is a lopper though some use spades to cut plants at the soil line. 

If you would like to volunteer for these or other Conservation Committee projects, please contact either of the Conservation Committee co-chairs, Carol Rogers or Patrick Carlson. 


Education Committee 

Every January, the Education Committee prepares a booth at the QCCA Expo center and operates spotting scopes along the Mississippi River during the Bald Eagle Days environmental fair. We can always use assistance preparing for the event, staffing the booth, and operating the scopes. Contact Jody Millar if you would like to volunteer. 


Newsletter Committee 

QCAS publishes Mississippi Currents our chapter newsletter, six times a year. You can contribut by submitting articles, drawings, and photos of interest. Send your submissions to Jason Monson. Contact Jody Millar if you can help with editing and page layout as well. 

If you've been thinking about getting involved in any way, feel free to contact any board member.
~~Limpkin Florida Dec. 1, 2015 Photo by Dick Sayles